Meet The Doctor
Ruba M. Maatouk, DDS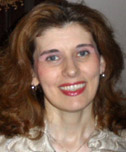 Ruba M. Maatouk, DDS, is a north Chicago-area restorative, cosmetic, and implant dentist who offers a unique combination of artistic skills coupled with advanced scientific techniques and material.
Dr. Maatouk explained, "I have a lot of passion to practice what I love and do best, which is putting a smile on every one that comes through our doors. I am only satisfied when I achieve excellence. I believe it is essential to really listen to our patients and understand their needs and desires. I work to educate all our patients so that they can take an active roll in their treatment; together as a team, we can accomplish the smile they desire.
"Maintaining their dental health is a commitment that both the patients and I make to each other. I understand, and share a very high appreciation for, the privilege of serving our patients. I do my very best to always provide the finest of care while maintaining sound ethics and integrity."
Being a mother of three children herself, Dr. Maatouk knows the importance of healthy teeth and the confidence a beautiful smile can give you and your child. Dr. Maatouk diagnoses and treats her guests based on the highest ideals of dentistry – the way she would treat her own family. With gentle and friendly care, she helps you realize what you strive for – a smile that truly enhances your life.
Dr. Maatouk graduated from the University Of Illinois College Of Dentistry. She follows up on events and activities of:
American Academy of Aesthetic Dentistry
The American Dental Association
The Chicago Dental Society
The Illinois State Dental Society